Every Sunday in Italy is proof that Italians know the value of gathering together—over a delicious meal of course—with family and friends. When the holidays arrive, the table is usually a bit bigger and the menu enhanced with special dishes, many that only appear during the holidays. Nowhere is this tastier than with the traditional Italian Christmas desserts. The Bel paese boasts an exceptional amount of desserts that grace the holiday table. While saving room for dessert during the holidays is especially challenging in Italy, here's a look at some of our favorite Christmas desserts from around Italy.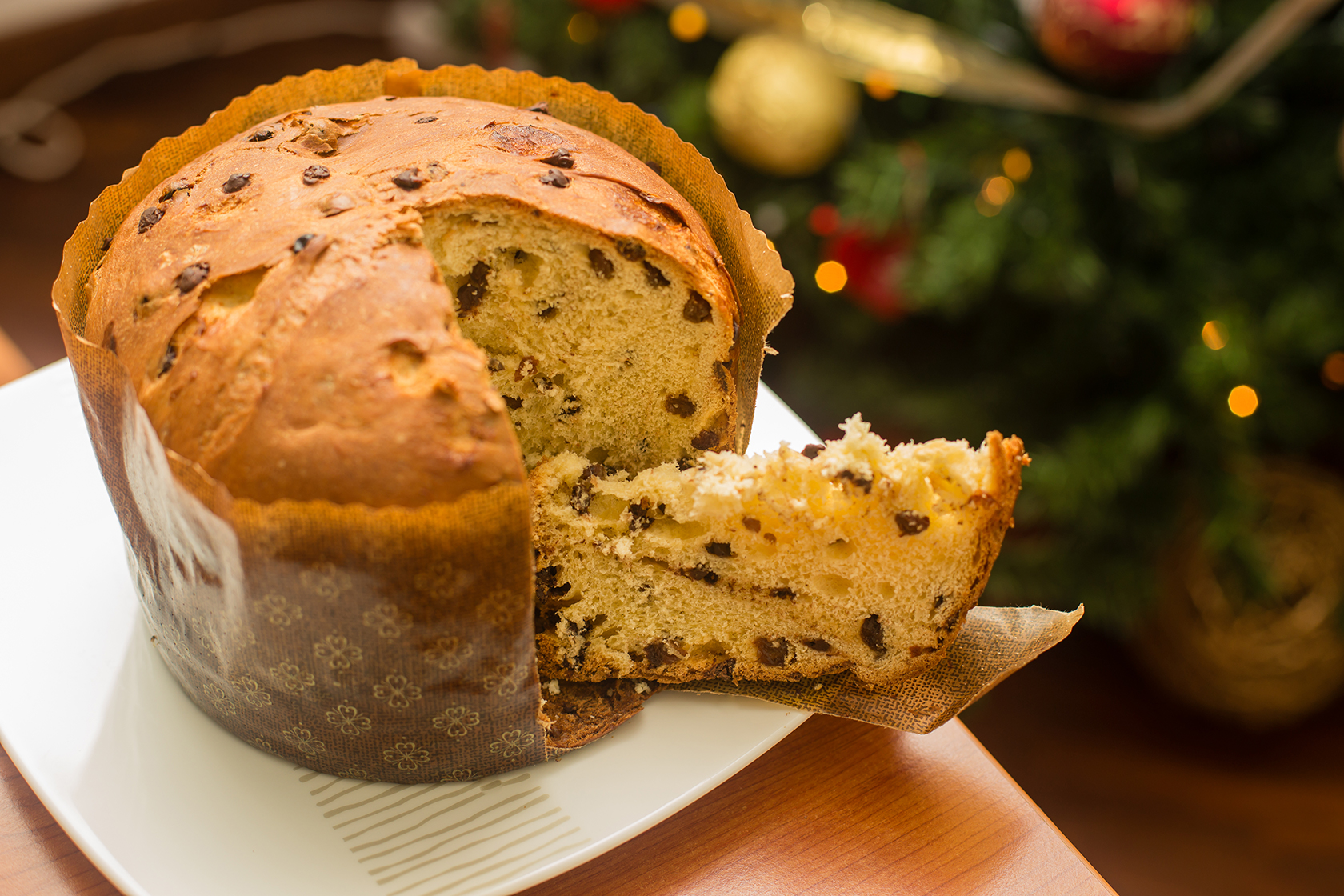 Natale isn't complete without panettone, a sweet bread with raisins and candied citrus, that you can easily recognize by its tall domed shape. While originally from Milan, it's now a fixture of the holiday season throughout Italy – and known all around the world. You'll find panettone everywhere during the holiday season, from the supermarkets to artisan panettone at local bakeries. Italians do take it seriously with local and nationwide competitions for the best panettone. After trying a traditional one, look for regional varieties that incorporate local or seasonal ingredients, like chestnuts, pistachios or lemon panettone on the Amalfi Coast.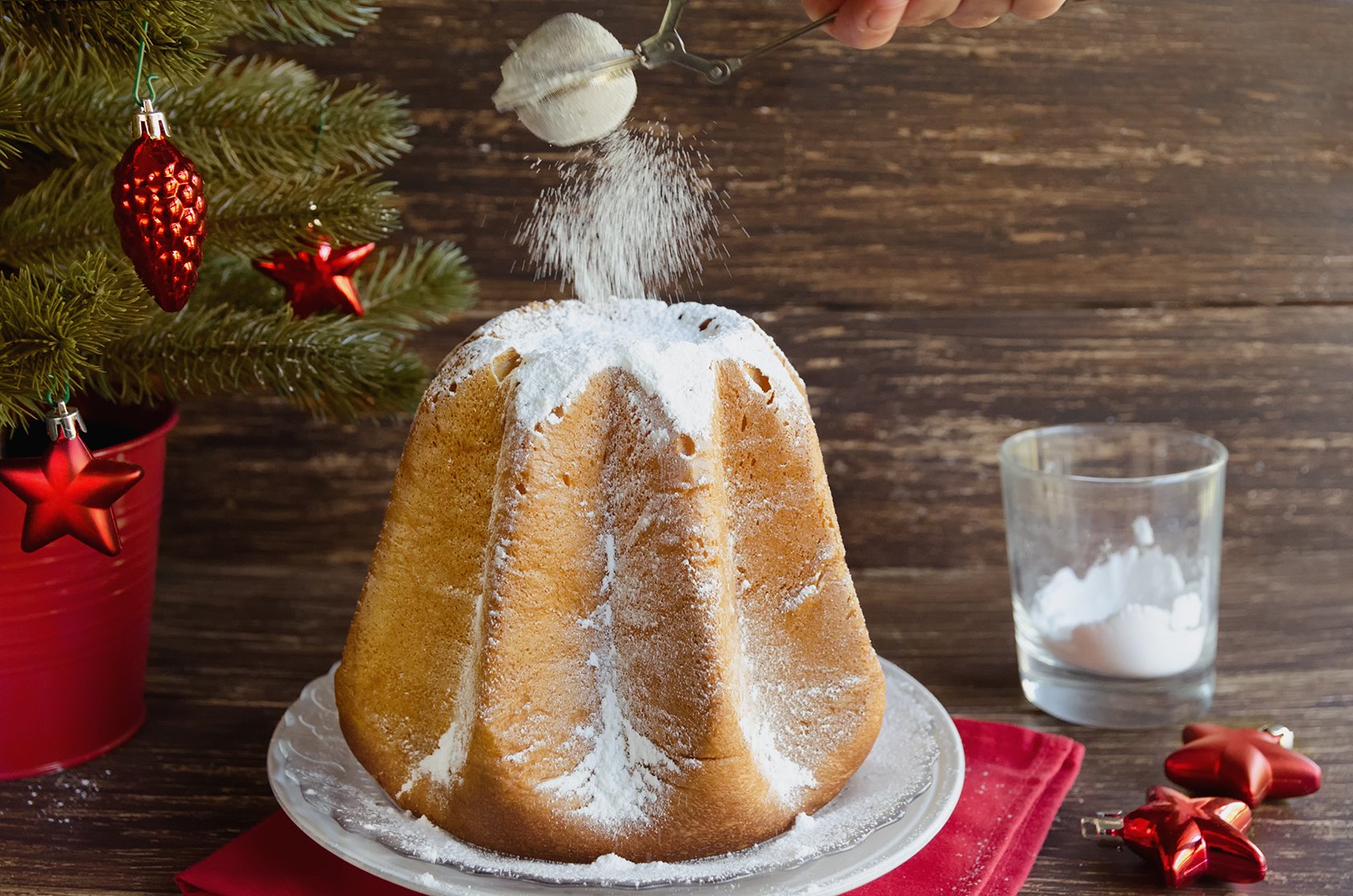 Did you know panettone has stiff competition during the holiday season? This comes from the popular pandoro, a soft sweet bread with a golden color (pan means bread and d'oro means gold). It's shaped like an eight pointed star and is traditionally served with a dusting of vanilla infused powdered sugar, which is said to represent the snow covered Alps. Many people prefer it to panettone because it doesn't have candied fruit or raisins. (However, panettone can also be often be found made without candied fruit or raisins for people who prefer it without.) Traditionally made in Verona, pandoro is another Christmas dessert that is now popular across Italy. It's usually sliced from top to bottom, but if you want to get fancy you can slice it horizontally and rotate the star shaped slices to form a Christmas tree shape.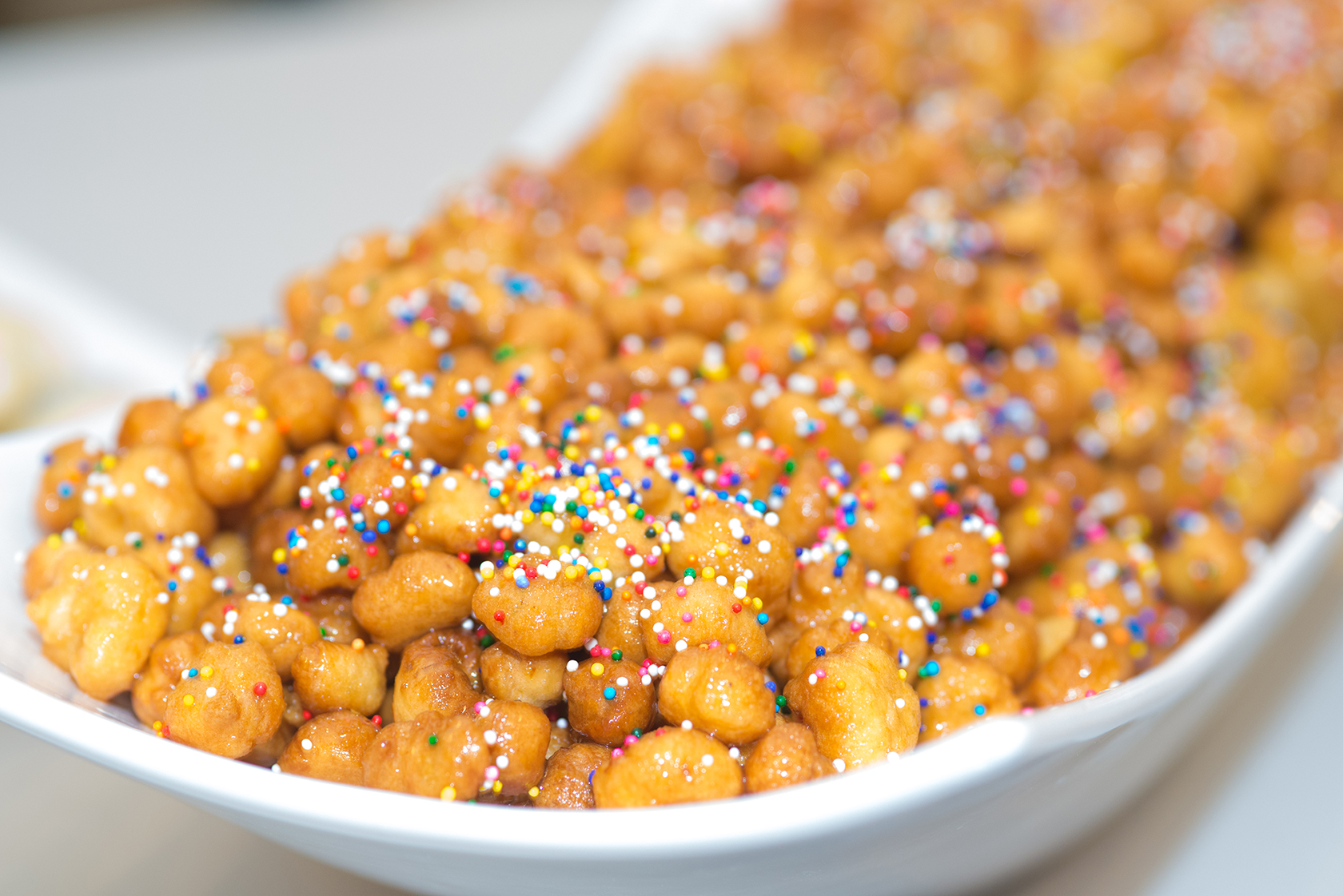 Naples is a must for foodies in Italy and the holidays are no exception – especially if you have a sweet tooth. One Christmas favorite you'll see in bakeries are round or wreath shaped piles of golden colored struffoli. These small balls of fried sweet dough are doused in honey and often mixed with candied fruit and other sweets. Sprinkles? Perchè no! When made well, these sweet treats are a bit crunchy on the outside and light in texture. Unlike panettone and pandoro, which are quite complex to prepare, struffoli are fun and easy to make at home. Just be prepared … it's hard to resist having just one more!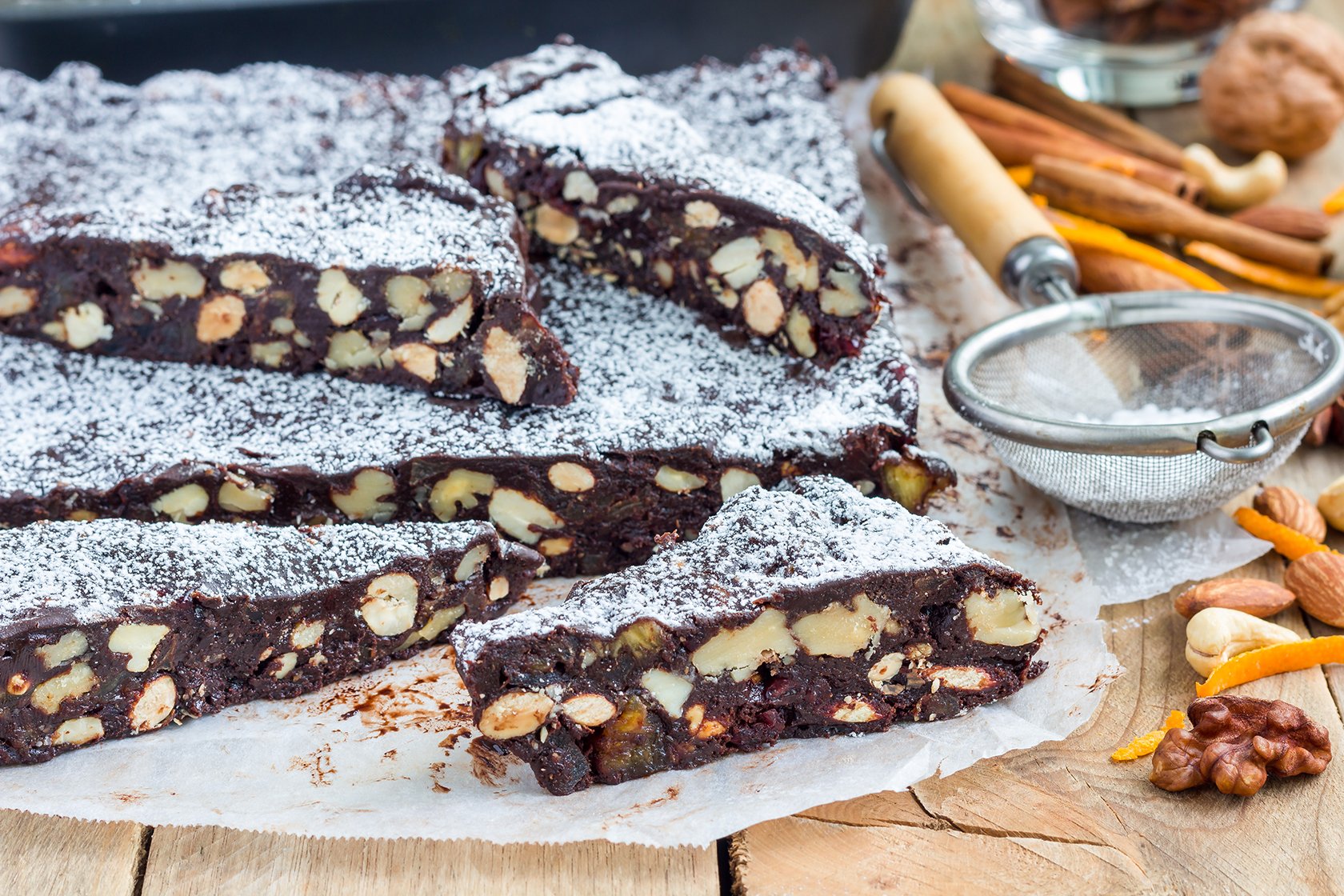 Christmas in Tuscany means it's time for panforte. This dense sweet cake loaded with nuts, fruit and spices has been made in Siena since the 13th century. While still most strongly connected with Siena, panforte or variations like pampepato, are made in many places throughout Tuscany and central Italy. Families often have their own closely guarded recipes that they pass down for generations.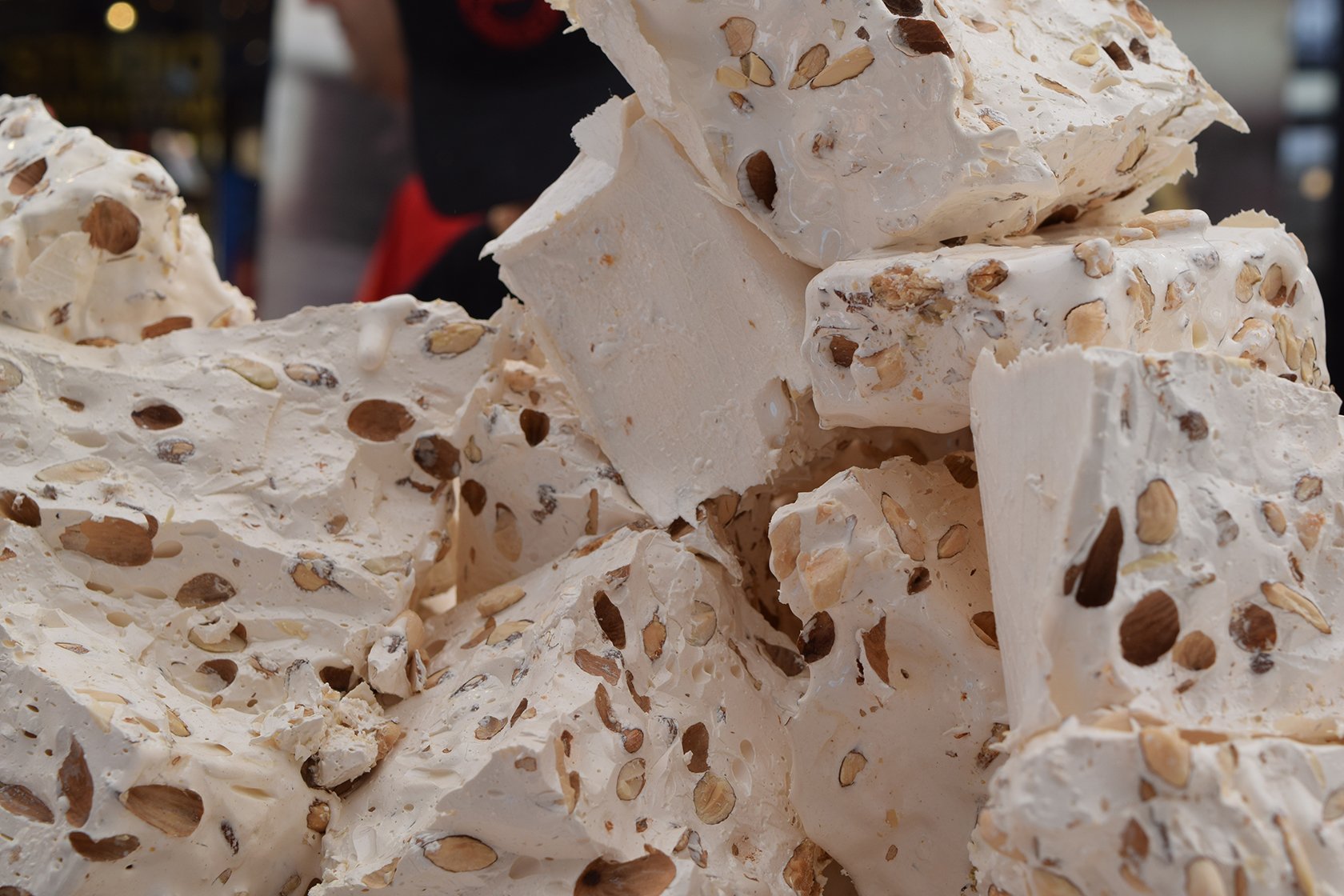 A Christmas classic throughout Italy, torrone is a nougat dessert made with honey, sugar, egg white and nuts. There are many different types of torrone since the texture can vary from soft and chewy (morbido) to extremely brittle and crunchy (croccante). Then you'll find torrone made with different types of nuts, usually almonds, hazelnuts, peanuts or pistachios. Then there are the chocolate and chocolate covered varieties. Are you getting the idea? While it's popular in many parts of Italy, one of the most traditional spots to taste torrone is in Benevento in the Campania region, inland from Naples. Here it has been made since before ancient Roman times when the area was ruled by the Samnites. Nowadays you can even find Torrone di Benevento made with the flavor of Strega, a herbal liqueur from in Benevento.